We're happy to introduce to you our Website Project Manager, Bill. There's a good chance you'll get to work with him on a project soon. Here's a little more about Bill.
Hello there, I'm Bill Henderson. If you ever bump into me, you can expect to be greeted with a simple, "Hello there," or a "Hey Bud." Nothing too crazy, but just enough to say hello.
My Background
I attended Northern Kentucky University for a few years before transferring to University of Louisville in 2009 where I graduated (c/o 2011) and began working in politics for a couple of years.
During this time I worked on a number of campaigns and projects ranging from mailers to TV commercials. Following this, I ended up in private education for 8 years as a Google/Chromebook Administrator and Technology Director. After all this, I shifted gears away from IT to return to my creative and strategic roots. That is where my story at The Marketing Squad began.
My Role at The Squad
The short version of what I do is Project Management for websites we make at The Squad. I'll break that down into a fun little analogy to help you better understand my day to day.
As a Website Project Manager, once a website project is sold, it's handed to me and becomes my priority. Or as I like to call it, "one of my babies." I make sure that new website is moving and growing so it becomes the beautiful and functional asset you (our client) envisioned it would be in your world of business. Once this website project has matured and can stand on its own, we pass it off to you so you can work with it and show it off!
Interesting analogy, I know. But I do try to bring passion and care to every project which includes effective collaboration and communication with my team and clients like you! So I'm in conducting meetings, emails, and phone calls every day!
I am here for support during a project to ensure it's moving along. I gather all the essential information we need to deliver the best possible results. For example, here's a website project I helped manage during my first few weeks on the team.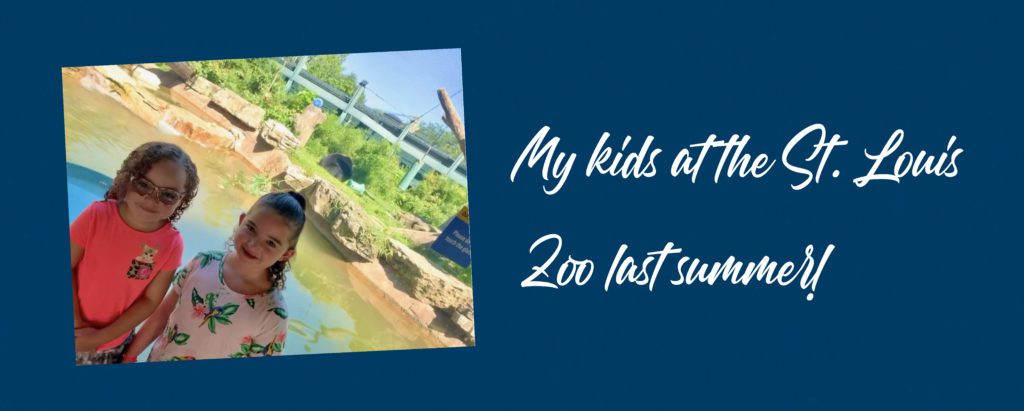 A Little More About Me
My wife, Tinki, and I met the summer after we graduated high school, got married in 2009, and have been in Louisville ever since. Together, we have two beautiful daughters, Amelia and Maggie. We also have some fur babies too. The cats, Jules & Barb, and our dog Pepper (yes, my house is filled with all girls, even the animals!) make our home even more fun. It's okay though, I grew up with 3 sisters in the house.
I also grew up reading Zoo Books and watching Zaboomafoo and the Crocodile Hunter. I love animals! My girls share that passion too. We try to take one kind of trip every summer that typically involves animals. This photo above shows them doing just that.
To show off some of my creative roots, I also included a sketch of a cat that I did because the Squad asked for an example of my artwork. Although I'm all about fun, I'll be honest, I'm not known for my karaoke skills. I know a lot of songs but I prefer to sing along with the crowd. My song of choice by Smash Mouth is a pretty safe bet.
What else do you want to know about me? My bio, LinkedIn, and StrengthFinders results can be found here.